Collapsible Crates and Folding Boxes
All of our Collapsible Crates and Plastic Folding Boxes are manufactured to the highest standard ensuring you a high quality product. Designed specifically for picking, packing, storing and transportation.
Our plastic folding boxes are optimized for maximum space saving and come in many sizes that are not always shown.
Please contact us if you require additional details on our Collapsible Boxes, Plastic Folding Boxes or Collapsible Crates or Alternatively Request a Quotation by clicking on a Collapsible Folding Crate below.

Read more »
Folding Storage Boxes
Our folding storage boxes are ideal for applications where space optimisation is critical. When the folding boxes are empty you are able to collapse the boxes to a flat footprint and then stack them on top of each other. Our folding crates optimise space in transit and storage better than any other plastic crate we supply. So if space is an issue to your organisation, our folding crates are a good option.
Easily Assembled and Folded
Our folding plastic crates can be assembled and folded quickly and easily to avoid any loss of production or distribution downtime. When assembled the plastic crate becomes a very robust and strong storage container for most applications including retail, manufacturing and automotive.
Safe and Secure
All of our folding boxes have attached integrated lids which provide added security in storage and distribution. This allows for low to high-value goods and products to be shipped and protected at all times.
Folding Box Sizes
We supply small plastic folding boxes ideal for components and small parts to large plastic collapsible crates more suited to clothing, electrical equipment and larger products.
Box Printing and Branding
We provide a printing and branding service for all of our collapsible foldable crates. Company names and logos can be printed on the side of the crates for identification and corporate purposes. Please ask us for more information about this service when ordering plastic crates.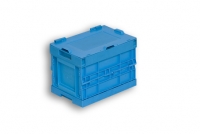 300 x 200 x 220mm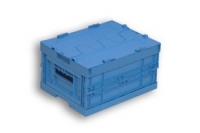 400 x 300 x 220mm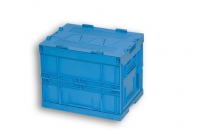 400 x 300 x 320mm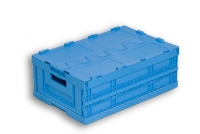 600 x 400 x 220mm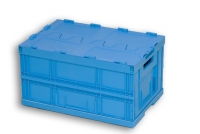 600 x 400 x 320mm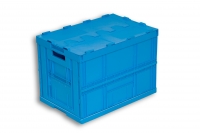 600 x 400 x 420mm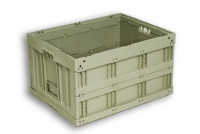 800 x 600 x 450mm