Plastic Stacking and Nesting Trays, Crates and Boxes
All of our Stacking and Nesting Plastic Boxes are manufactured to the highest standard ensuring a high quality product. Our plastic nesting boxes come in many colours and sizes that are not always shown.
We have huge amounts of plastic stack nest crates in stock at the most affordable prices.

Please contact us if you require further information on Nesting Trays, Plastic Nest Crates or our Stacking and Nesting Boxes or Alternatively Request a Quotation by clicking on a Stack Nest Crate below.

Read more »
Stack and Nest Crates
Our stacking and nesting boxes have huge advantages over standard stacking boxes. When the stacking and nesting crates are empty they can be nested inside each other allowing for maximum space optimisation within transport and distribution.
Methods of Nesting Stack Nest Boxes
Our stack and nest boxes use different nesting functionalities and are suited to certain applications better. The different stack and nesting methods are as follows:-
Attached Lidded Nesting Boxes
Attached lidded stacking and nesting boxes nest within each other when empty by retracting the attached lid. When you then need to stack these boxes you must close the attached lid and the boxes are able to stack on top of the closed lids.
These types of stack nest boxes are mostly used in applications where security and protection of the product is essential e.g. within retail, commercial relocation and secure distribution of high value products. We also can provide a crate hire service if needed.
Bail Arm Nesting Crates
Bail arm nesting crates nest by retracting the small-integrated plastic or metal bail arm rods. When the bail arm rod is retracted, nesting of the boxes can occur. When stacking the stack nest bail arm crates, the bail arm needs to be put into the stacking position and the crate or box stacks on top of the bail arm itself.
These types of bail arm nesting crates are used mostly in food production and food distribution, as they are extremely easy to stack and nest within or on production lines.
180° Stack Nest Boxes and Crates
180° stack and nest crates can be nested within each other when the stacking and nesting boxes are alternately rotated 180°. Nesting crates only stack or nest in one-way therefore if you wish to stack these boxes they must be the same way as the stacking and nesting box below. When the boxes are stacked or nested they are interlocked allowing for less slippage in transit.
The 180° stack and nest boxes are mostly used in production and distribution applications where additional stability is needed.
Please contact us for more information on our Stack Nest Boxes and Crates.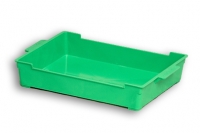 355 x 241 x 64mm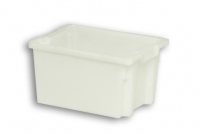 400 x 300 x 220mm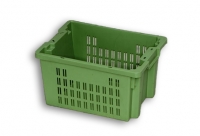 400 x 300 x 220mm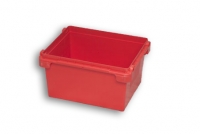 379 x 329 x 210mm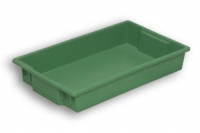 590 x 340 x 95mm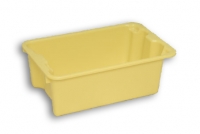 585 x 375 x 200mm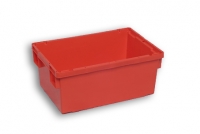 590 x 390 x 250mm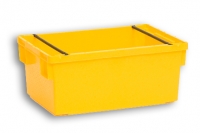 590 x 390 x 250mm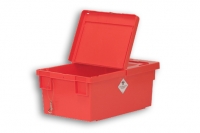 590 x 390 x 250mm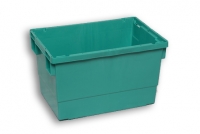 590 x 390 x 350mm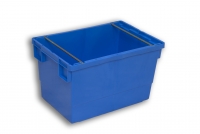 590 x 390 x 350mm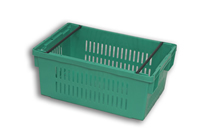 590 x 390 x 250mm